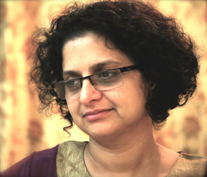 Trained at the Film and TV Institute of India and FEMIS, Paris, Sharmila began her career as a freelance editor and writer. She has donned several hats as video editor in Odyssey Video Communications, Bangalore; Associate Producer in Salon Multimedia, Hong Kong and was the Producer of 'Pardes' a community based TV show in San Francisco, California.
As GM for Tarantella Pictures, Sharmila executed 'Diva' a Malay feature film and 'Kiss Kis Ko,' a Hindi film shot entirely in Bali, Indonesia which starred A Band of Boys.
In early 2010 she founded WilderIndia , an independent media company. WilderIndia has since then acquired the rights to 'Roshni' a family drama.  The film is currently in pre production. Also in development is 'The Mahout'; an elephant adventure story with an environmental twist, set in Kerala, India. 'Pyaari Dulhan' a hindi romcom feature film for preteens and children – about a dhobi and his jealous donkey – is complete and is currently being marketed.
WilderIndia also has developed and published 8 books of modern Indian Wildlife stories which are available in bookstores and online.